Economy One-Liners for various competitive examinations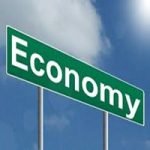 Thank You for landing the Economy and Business section page.
Here are some important Economy one-liners for students competing for various exams
Watch some of the important Economy Bits below.
---
1-In India, almost 60-70% of the total population still resides in the rural area.
---
2-India is a mixed economy
---
3-A person who has worked for 3 months or less but for less than 6 months of the reference period in any economic activity is termed as marginal worker
---
4-Green shoot is a term used colloquially and propagandistically to indicate signs of economic recovery during an economic downturn
---
5-  National product at factor cost is equal to the net domestic product at factor cost + Net Factor Income from Abroad.
---
6-The total of national income measures the flow of goods and services in an economy.
---
7-The National Commission on Population was constituted on May 11, 2000, under the Chairmanship of the Prime Minister Shri Atal Bihari Vajpayee
---
8-Current Economic Census is Sixth Economic Census held in 2013.
---
9-The family planning programme was officially launched in 1962
---
10-The National Development Council (NDC) or the Rashtriya Vikas Parishad is the apex body for decision making and deliberations on development matters in India, presided over by the Prime Minister
---
11-Federal Public Service Commission was set up under the Government of India Act, 1935.
---
12-The portfolio system in the Executive was introduced by the Indian constitution council act, 1861.
---
13-The Government of India in February 2000, announced the National Population Policy (NPP)
---
14-First HDR report was published in 1990.
---
15-Planning in India starts in the 1930s
---
16- M. Visvesvaryya, in his book 'Planned Economy of India', advocates the necessity of planning in the country much before Independence i.e in 1934
---
17-Gandhian Plan was put forward by S.N. Agrawal (1944).
---
18-Formation of NITI Aayog in 2015
---
19- In 1947 Economic Programme Committee was set up under the chairmanship of Jawaharlal Nehru.
---
20-NITI Aayog has Prime Minister as its chairman, one Vice-Chairman cum chief-executive officer, 5 fulltime members and 2 part-time members, apart from 4 central government ministers.
---
Also, watch another article on Economy here
Watch Current Affairs section for here 
(Visited 48 times, 1 visits today)