General Awareness for various competitive examinations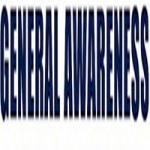 Welcome to GK Section.
We know the importance of general awareness, GK (General Knowledge) in various competitive exams for aspirants.
We are publishing general awareness notes and study material daily.
We publish articles on this page from general studies and general knowledge point of view.
These notes are extremely useful for all exams including Bank Exams.
More General Awareness Study Material & notes will be updated
General Awareness bits help in the last minute preparation for various exams.
Watch One-Liners
---
1-In India, the concept of single citizenship is adopted from England
---
2-In India, the first bank of limited liability managed by Indians and founded in 1881 was Oudh Commercial Bank
---
3-In India, the Public Sector is most dominant in Commercial banking
---
4-In India, Commercial Banks have the highest share in the disbursement of credit to agriculture and allied activities
---
5-In India, the interest rate on savings accounts in all the nationalized commercial banks is fixed by Reserve Bank of India
---
6-In India, the concepts of Minimum Heeds and Directed Anti-poverty Programmes were the innovations of Fifth Five-year Plan
---
7-In India, the bank NABARD provides refinance to Scheduled Commercial Banks, Regional Rural Banks, State Land Development Banks but does not provide refinance to Export-Import Banks
---
8-In humans, Hemoglobin protein transports oxygen from the lungs to the rest of body.
---
9-In humans Hypothalamus portion of the brain controls hunger, thirst and body temperature.
---
10-In India, Dugong (sea cow) is found in the bio-reserve site of Gulf of Mannar.
---
11-In India, seven States share the coastline
---
12-In India, Inflation is measured by the Wholesale Price Index number
---
13-In eye donation, Cornea parts of donor's eye is utilized.
---
14-In February 2009, Indian music maestro Zakir Hussain won the Grammy Award for his collaborative music album 'Golden Drum Project.
---
15-In Gandhara sculptures the preaching mudra associated with the Buddha's first sermon at Sarnath is Dharmachakra
---
16-In his autobiography, Babur has given less details about wars.
---
17-In humans, 46 (23 pairs) chromosomes does a cell have.
---
18-In his first voyage to India, Vasco da Gama had landed at Kozhikode (Calicut) on 20 May 1498.
---
19-In a railway track, two rails are joined end to end with a gap in between them because accidents due to expansion in summer can be avoided.
---
20-In Article 394A Hindi language is the authoritative text of the constitution of India
---
Also, watch General Awareness other bits here 
Also watch Current Affairs here
(Visited 90 times, 1 visits today)