General Awareness for various competitive examinations
Welcome to GK Section.
We know the importance of general awareness, GK (General Knowledge) in various competitive exams for aspirants.
We are publishing general awareness notes and study material daily.
We publish articles on this page from general studies and general knowledge point of view.
These notes are extremely useful for all exams including Bank Exams.
More General Awareness Study Material & notes will be updated
General Awareness bits help in the last minute preparation for various exams.
Watch One-Liners
---
1-Guwahati is situated on the bank of the river Brahmaputra.
---
2-Hard Currency is defined as currency traded in foreign exchange market for which demand is persistently relative to the supply
---
3-Harsha was the last great royal patron of Buddhism.
---
4-Hay fever is a sign of Allergy.
---
5-Hinterland refers to the land region extending from a seaport.
---
6-Heavy water is Deuterium oxide.
---
7-Harshacharita the biography of Harsha was written by Banabhatta.
---
8-Harsha was defeated by Pulkesin II.
---
9-Hanging valleys are formed due to the action of Glacier.
---
10-Hirakud Dam at Sambalpur in Orissa, the longest dam in India, is built across Mahanadi river.
---
---
11-Hooghly was used as a base for piracy in the Bay of Bengal by the British.
---
12-The Directive Principles are not enforceable, whereas the Fundamental Rights are enforceable.
---
13-The Constituent Assembly took about 3 years since Dec 9, 1946, to finally pass the Constitution.
---
14- 12 members are nominated by the President in Rajya Sabha.
---
15- 23 chromosomes pairs are there in a human body.
---
16-Sultan Qutub-ud-din Aibak died after a fall from his horse while playing Chaugan.
---
17-Historians are of the view that the British signed the Treaty of Bassien (1802) with a 'Cypher'. This 'Cypher' was Baji Rao II.
---
18- There are 12 Schedules are there in the Constitution of India.
---
19- 20 seats are reserved for Union Territories in the Lok Sabha.
---
20- There are 29 States and 7 Union territories in India.
---
21- There are 9 coastal States in India.
---
22- The preamble was amended once.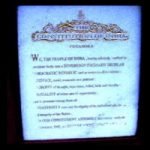 ---
---
23-  The salaries and allowances for the Chairman and Deputy Chairman of the Rajya Sabha and the Speaker and the Deputy Speaker
of the Lok Sabha are fixed by Parliament by Law.
---
24- 97 subjects are there on the Union List of India.
---
Also, watch General Awareness other bits here 
Also watch Current Affairs here
(Visited 47 times, 1 visits today)