Sports Current Affairs- Jan 25, 2023
1-A double-century partnership between India's opener Shubman Gill and Rohit Sharma helped India defeat New Zealand by a score of 385/9 in 50 overs at the Holkar Cricket Stadium in Indore.
2-Gill and Rohit Sharma have now opened together in six ODIs, with five of them partnerships going over fifty runs.
3-At the Holkar Cricket Stadium in Indore on Tuesday, India defeated New Zealand with a score of 385/9 because to three fantastic centuries from Shubman Gill (112 off 78), Rohit Sharma (101 off 85), and Hardik Pandya (54 off 38).
Sports Current Affairs
4-Two-time After a 10-year absence, Australian Open winner Victoria Azarenka returned to the semifinals on Tuesday after defeating American Jessica Pegula, the No. 3 seed, 6-4, 6-1 in 1 hour and 37 minutes.
5-Azarenka will play in her eighth semifinal overall, her first semifinal in a Grand Slam event since the 2020 U.S. Open, and her first semifinal in Melbourne since winning the tournament in 2013.
Shreyas Iyer of India and Mohammed Siraj of Pakistan have been selected for the 2022 ICC Men's ODI Team of the Year, which will be captained by Babar Azam of Pakistan.
Sports Current Affairs
6-In the 50-over format, Iyer emerged from 2022 as one of India's most reliable players while also serving as the middle-mainstay. order's He played 17 games in the calendar year, primarily at No. 4, and scored 724 runs at an average of 55.69 runs per game.
7-Bajrang Punia, a wrestler with Olympic medals, lamented on Tuesday that the government had not contacted wrestlers before establishing the Oversight Committee.
8-On Tuesday, the Legends League Cricket announced the addition of seven more legendary cricketers to the lineup for the upcoming season, which will take place in Qatar from February 27 to March 8.
Shoaib Akhtar, Chris Gayle, Sreesanth, Mohammad Hafeez, and Monty Panesar are on the list of players who have been confirmed. With 8 wickets in five games, Morkel was the most productive bowler last year, according to LLC player statistics.
Sports Current Affairs
9-In the most recent ICC women's T20I player rankings, which were revealed on Tuesday after India's side won its first two matches of the present tri-series in South Africa, captain Harmanpreet Kaur rose three spots to land in the 11th spot.
10-The International Cricket Council announced on Tuesday that Indian captain Harmanpreet Kaur will lead the 2022 ICC Women's ODI Team of the Year, which will also feature colleagues opener Smriti Mandhana and quick bowler Renuka Singh.
11-Olympian Vinesh Phogat took to Twitter to share a cryptic message amid the ongoing dispute between the wrestlers and the Wrestling Federation of India (WFI) president Brij Bhushan Sharan Singh.
According to Vinesh, who claimed Brij Bhushan Sharan had been harassing female wrestlers, "Truth can be troubled but not vanquished."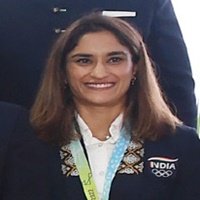 Sports Current Affairs
12-Harry Brook, a batter for England, said during the mini-auction that the Indian Premier League (IPL) is "a big dream" for him and that he finds it difficult to comprehend how he was awarded such a sizable contract.
After entering the auction at a base price of Rs 1.5 crore, Brook received a sizable paycheque from Sunrisers Hyderabad for Rs 13.25 crore.
13- On Tuesday, Sania Mirza and Rohan Bopanna of India advanced to the mixed doubles semifinals at the Australian Open after the Latvian-Spanish team of Jelena Ostapenko & David Vega Hernandez were given a walkover in the quarterfinals.
14-Sania is competing in her final major as a six-time Grand Slam champion and stated earlier this month that she would end her career in tennis at the Dubai Tennis Championships, a WTA 1000 competition that gets underway on February 19.
15-Sania has won six major doubles championships, including the Australian Open mixed doubles trophy in 2009 with Mahesh Bhupathi. She has won three women's doubles titles and as many mixed doubles championships.
(Visited 4 times, 1 visits today)