Geography -Means Of Transport
1-Trade between two countries is called international trade. It may take place through sea, air or land routes.
2- Shah Suri Marg is called National Highway No.1, between Delhi and Amritsar.
3-National Highway-7 is the longest and traverses 2, 369 km between Varanasi and Kanyakumari via Jabalpur, Nagpur, Hyderabad, Bangalore and Madurai. Delhi and Mumbai are connected by National Highway-8, while National Highway-15 covers most of Rajasthan.
4-Border Roads Organisation was established in 1960 for the development of the roads of strategic importance in the northern and northeastern border areas.
5-The length of road per 100 sq. km of area is known as density of roads
6-The Indian Railway have a network of 7,133 stations spread over a route length of 64,460 km with a fleet of 9,213 locomotives, 53,220 passenger service vehicles, 6,493 other coach
vehicles and 2,29,381 wagons as on March 2011.
7-The Indian Railways is the largest public sector undertaking in the country. The first train steamed off from Mumbai to Thane in 1853, covering a distance of 34 km.
8-The Indian Railway is now reorganised into 16 zones.
9-India has inland navigation waterways of 14,500 km in length. Out of these only 5685 km are navigable by mechanised vessels.
10-With a long coastline of 7,516.6 km, India is dotted with 12 major and 187, notified nonmajors (minor/intermediate) ports. These major ports handle 95 per cent of India's foreign trade.
11-Kandla in Kuchchh was the first port developed soon after Independence to ease the volume of trade on the Mumbai port, in the wake of loss of Karachi port to Pakistan after the Partition. Kandla is a tidal port.
12-Chennai is one of the oldest artificial ports of the country. It is ranked next to Mumbai in terms of the volume of trade and cargo.
13- Vishakhapatnam is the deepest landlocked and well-protected port. This port was, originally,conceived as an outlet for iron ore exports.
14- Paradwip port located in Odisha, specialises in the export of iron ore.
15-The air transport was nationalised in 1953.
16-Mass communication provides entertainment and creates awareness among people.It includes radio, television, newspapers, magazines, books and films.
17-Doordarshan, the national television channel of India, is one of the largest terrestrial networks in the world. It broadcasts a variety of programmes .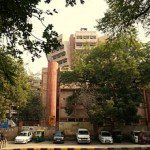 18-Foreign tourist's arrivals in the country witnessed an increase of 11.8 per cent during the year 2010 as against the year 2009, contributing Rs 64,889 crore of foreign exchange in 2010.
19- 5.78 million foreign tourists visited India in 2010.
20-India has one of the largest road networks in the world, aggregating to about 2.3 million km at present.
(Visited 98 times, 1 visits today)