General Awareness for various competitive examinations
Thank You all for all for landing at the page of General Awareness.
General Awareness plays an important role in various competitive examinations conducted by various organizations.
General Awareness bits help in the last minute preparation for various exams.
General Awareness One-Liners help a lot.
Watch below some of General Awareness-One Liners
1-The first Indian to be selected as mayor in the UK is Harbhajan Kaur
2- The amount given under Pradhan Manthri Suraksha Bima Yojana is Rs.2 lakhs
3-The last viceroy before constitution came into effect was Raja Gopalachary
4-Operation smile related to 'Find Missing Children'.
5-Uniform civil code article- Article 44
6-The need for Western blot test is Antibody Checking
7-The FIFA 2018 will be held in Russia
8-Gasoline car was introduced by George Selden
9-First female Prime Minister of Sri Lanka was Sirimavo Bandaranaike
10- The transition between two biological communities is called as Ecotone
11-SONAR full form is Sound Navigation And Ranging
12-Transistor was invented in the year 1948
13-Azad Hind Fauz was formed in 1943
14-The full form of PCB is Printed Circuit Board
15- Father of White Revolution in India is Verghese Kurien
16-Marlon James is the author of the Novel "A Brief History of Seven Killings
17- GSLV- Geosynchronous Satellite Launch Vehicle
18-Fruit bats are host of Ebola virus
19-Proteins are manufactured in Ribosomes part of cell
20-Anglo Sikh War was fought in 1845
21-Laughing gas is Nitrous Oxide
22-Afghanistan celebrates Independence on 19th August
23-The project 'LIGO' is related to Rivers
24-Cricketer Kumar Sangakkara Hits three consecutive centuries in Cricket World Cup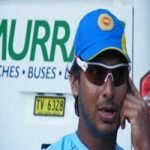 25-Yankee stadium is situated at which New York City
26-Chief Election Commissioner is removed by Parliament with two-thirds majority in Lok Sabha and Rajya Sabha
27-Michigan Stadium is the Largest Stadium of America
28- Khajuraho temples can be found in Madhya Pradesh
29-India occupies 2.4 percentage of world s geographical area
30-Language of Mughal Density is the Persian Language
31-Largest Coal Deposits in India are available in Damodar Valley
32-The Biography of Indira Gandhi written by Pupul Jayakar
33-Tippu Sultan Masjid is situated in Kolkata
34-Pitchblende is related to Uranium
Also, watch General Awareness other bits here 
Also watch Current Affairs here
(Visited 17 times, 1 visits today)