General Awareness for various competitive examinations
Welcome to GK Section.
We know the importance of Current Affairs mainly general awareness, GK (General Knowledge) in various competitive exams for aspirants.
We are publishing general awareness notes, bits and study material daily.
We publish articles on this page from general studies and general knowledge point of view.
These notes are extremely useful for all types of exams including Bank Exams.
More General Awareness Study Material & notes will be updated
General Awareness bits help in the last minute preparation for various exams.
Watch One-Liners
---
1-

IRDP

was introduced during the Sixth Five Year Plan.
---
2-

Iron rusts

quickly in Rainwater.
---
3-J. B. Say's Law Market was accepted by

Adam Smith

,

Marshall

and

David Ricardo

but not accepted by Malthus.
---
4-

Isotopes

are separated by Distillation.
---
5-

Iron rust

due to the action of Oxygen and water.
---
6-

Inflation

implies a rise in the general price index.
---
7-Jharkhand shares boundary with West Bengal, Odisha, and Chattisgarh.
---
8-Just before midnight 14th August 1947,

Jawaharlal Nehru

rose in the Constituent Assembly to deliver the most famous speech ever made by an Indian.

'Long years ago we made a tryst with destiny'

were the opening lines of the speech.
---
9-

Kanva dynasty

was established by Vasudeva.
---
10-

Kautilya

also known as Vishnugupta and

Chanakya

is the author of

Arthasastra

which has been compared with Machiavelli's Prince.
---
11-

Kanyakumari

is situated in Tamil Nadu.
---
12-Kanchipuram is in Tamil Nadu.
---
13-

Jatakas

are the stories of Buddha's previous lives.
---
14-

Khajuraho temples

were built by rulers of dynasty Chandela.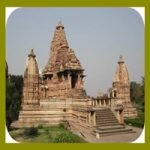 ---
15-

Khilafat Movement

was organized to protest against the injustice done to  Turkey.
---
16-

Kodaikanal

, the famous hill-station of South India, is situated on Palni hills.
---
17-

Krishnadevaraya

built the Krishnaswami temple in Hampi. It is situated in the present state of Karnataka.
---
18-Lack of an atmosphere around the Moon is due to the

low escape velocity

of air molecule and low gravitational attraction.
---
19-Lakshadweep is a group of 36 islands.
---
20-

Kudremukh hills

, name literally meaning Horse face, in Karnataka are famous for Iron Ore mines.
---
21-

Krivoy-Rog

has rich resources of Iron- ore.
---
22-

Koyna

Hydroelectric Power Project constructed over Koyna river, a tributary of Krishna river, is located in Maharashtra state.
---
23-

Kiel Canal

connects Baltic Sea and the North Sea.
---
24-

Lake Sambhar

is nearest to  Jaipur city of Rajasthan.
---
25-

Lakshadweep Islands

are the product of reef formation. 
---
(Visited 55 times, 1 visits today)