Geography One-Liners for various competitive examinations
Thank You for landing the Geography section page.
 Maximum questions come from Geography portion in different competitive exams.
Here are some important Geography one-liners for students competing for various exams
Watch some of the important Geography Bits below.
---
1- From Europe which Sea does one have to cross to reach Northern Africa?
Ans-

The Mediterranean Sea

.
---
2-The

Sahara

and the

Kalahari

deserts are the two large deserts of Africa.
---
3-The zone between the Tropic of Cancer and Capricorn is the zone of

Hottest

region climate.
---
4-The two main rivers emptying themselves into the Atlantic ocean are River

Volta

and River

Niger

.
---
5-The two countries of Africa, where equatorial forests found are

Uganda

and

Gabon

.
---
6-In which direction does one have to travel from Africa to reach India?. Which Ocean has to be crossed?
Ans-

North-East

;

The Indian Ocean

.
---
7-Name the bays and gulfs in African Coast.
---
Ans-

Bays

– Bay of Madagascar, Bay of Somalia, Bay of Yemen, Bay of Djibouti.
Gulfs

-Gulf of Suez, Gulf of Aden, Gulf of Guinea, Gulf of Sidra.
---
8-The Countries that

colonized

in Africa are Belgium, Britain, Germany, France, Italy, Portugal and Spain.
---
9-Lake Victoria, Lake Tanganyika, and Lake Nyasa are main lakes in Africa.

Lake Victoria

is the largest lake in Africa.
---
10-The world's largest

Gold

and

Diamonds

mines are located in Africa.
---
11-In the year 1498, a Portuguese sailor named

Vasco de Gama

went around the Southern tip of Africa and reached India.
---
12-

Atlas

mountains are located on the north side of Africa.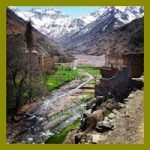 ---
13-What are the different Seas and Oceans that surround Africa?
Ans-

Mediterranean

to the north side, The

Atlantic

ocean on the west side and the

Indian Ocean

to the East side.
---
14-The countries through which

Tropic of Capricorn

is passing are South Africa, Mozambique, Botswana, and Namibia.
---
15-The different countries that are located on the east side of Africa continent are Somalia, Tanzania, and Kenya etc.
---
Watch more Geography here
Watch Current Affairs section for here 
(Visited 52 times, 1 visits today)