Geography One-Liners for various competitive examinations 
Thank You for landing the Geography section page.
 Maximum questions come from Geography portion in different competitive exams.
Here are some important Geography one-liners for students competing for various exams
Watch some of the important Geography Bits below.
---
1-The

youngest

fold mountains in the World are the

Himalayas

.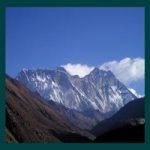 ---
2-The greater Himalayas are called the

Himadri

. The lesser Himalayas are called the

Himachal

.
---
3-The most important Himachal range is the

Pir Panjal

Range. It is in Kashmir.
---
4-The outer Himalayas are called the

Siwaliks

.
---
5-The great

peaks

in the Himalayas are Mount Everest, Kanchenjunga, Makalu, Dhaulagiri, Manaslu, Cho Oyu, Nanga Parbat, Annapurna, Nanda Devi, Namcha Burwa.
---
6-The

hill stations

of the Himalaya ranges are Simla, Mussoorie, Nainital, Chakrata.
---
7-In Jammu, the

Siwaliks

are called Jammu hills and in Arunachal, they are called Mishmi hills.
---
8-The highest mountain peak in the World is

Mount Everest

. Its height is 8848 mts.
---
9-The

Himalayas

extend from Jammu, Kashmir to Arunachal Pradesh.
---
10-

Pass

– A pass is a gap in mountain ranges providing a natural route across.
---
11-The longest glacier in the Himalayas is

Siachen Glacier

.
---
12-The World's second highest peak is the

K2

in the great Karakoram range. The highest table land is

Pamir Plateau

.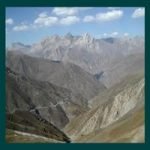 ---
13-The two beautiful valleys located in the Himalayas are

Kashmir valley

and the

Kulu valley

.
---
14-

Bhabar

– Rivers flowing from the Himalayas deposit gravel along the foot of the Siwaliks. This pebble-studded zone porous bed is known as Bhabar.
---
15-

Terai

– The small Himalayan rivers flow underground through Bhangar zone creating a wild marshy tract. This tract is called Terai.
---
16-

Khadar

– The new alluvium deposit belt is called Khadar.
---
17-

Bhangar

– In the south of our country, the plains are composed of alluvium deposits. The older alluvium of the floodplain is called Bhangar.
---
18-The

peninsula Plateau

is situated to the south of the Great Plains.
---
19-The Western Ghats and the Eastern Ghats are two ghats on the South.
---
20-The river

Narmada

separates the Malwa Plateau and the Deccan Plateau.     
---
Watch more Geography here
Watch Current Affairs section for here 
(Visited 77 times, 1 visits today)