History-One Liners
1-The British Parliament passed the Indian Independence Bill on 01.07.1947.
2-The INA, organized by Subhash Chandra Bose, surrendered to the British after the collapse of Japan.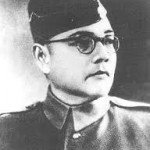 Subhash Chandra Bose
3-The Indian National Army was founded by Subhash Chandra Bose.
4-Forward Bloc party was founded by Subhash Chandra Bose in the year 1939 after he broke away from the Congress.
5-Subhash Chandra Bose re-organized the Azad Hind Fauz (also known as Indian National Army–INA in 1943, Singapore.
6-The leader of the Bardoli Satyagraha (1928) was Vallabhbhai Patel.
Vallabhbhai Patel
7-'Go Back to the Vedas' was the motto of Swami Dayananda Saraswati.
8-The reference to Hindus in Article 25 of the Constitution does not include Parsees.
9-The 'Quit India Movement' started at Bombay in 08.08.1942.
10-The Muslim League declared its goal of forming Pakistan in Karachi city in 1940.
11-Mohammed Bin Kasim was the first Muslim Invader of India.
12-The design of the National Flag of India was adopted by the Constituent Assembly On 22- 08-1947
13-The State of Bombay, in the original Constitution, was split into two States, Gujarat and Maharashtra, in 1960.
14-The Final Draft of the Constitution was prepared by S. N. Mukherjee.
15-The words 'Satyameva Jayate' inscribed in Devanagiri script below the abacus of the State Emblem of India are taken from Mundaka Upanishad.
16-B. N. Rau gave the first draft of the Constitution to the Drafting Committee to consider and improve.
17-Articles 19(1)(f) and 31 were deleted and Article 300-A was inserted by the 44th Constitution Amendment Act.
18-Mahatma Gandhiji first tried the weapon of Satyagraha in South Africa.
19-Article 15 of the Constitution cannot be amended by a simple majority in both the Houses of Parliament.
20-Gandhiji started Satyagraha in 1919 to protest against the Rowlatt Act.
(Visited 53 times, 1 visits today)