History- One Liners
1- Year 1921 is considered to be a memorable landmark in the history of India's Struggle for Freedom.
2-Bal Gangadhar Tilak, national leader of India, preached through his paper 'Kesari', his new ideals of self-help and national revival among the masses.
3-The Cabinet Mission to India was headed by Lord Pethick-Lawrence.
4-Jawaharlal Nehru drafted the resolution on Fundamental Rights for the Karachi Session of Congress in 1931.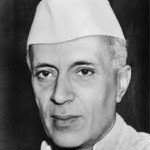 Jawaharlal Nehru
5-The historic 1929 Lahore Session of Indian National Congress was presided over by Jawaharlal Nehru.
6-Unity between the Congress and Muslim League (Lucknow Pact) and between the Moderates and Extremists took place in 1916.
7- The newspaper Kesari was started by Lokamanya Tilak to serve as a mouthpiece for the Indians in the Freedom Struggle.
8-Under Jawaharlal Nehru Presidency was the Lahore Session of the Indian National Congress held in the year 1929 wherein a resolution was adopted to gain complete independence from the British.
9-At Lahore Congress Session was the Working Committee authorized to launch a programme of Civil Disobedience.
10-India enacted an important event of Indian National Movement celebrating the 75th anniversary. It is Civil Obedience Movement.
11-'Vande Mataram' was first sung at the session of the Indian National Congress in 1896.
12-Jawaharlal Nehru was the Chairman of the Union Constitution Committee of the Constituent Assembly.
13-The expression 'Tryst with Destiny' was used by Jawaharlal Nehru on the occasion of August Declaration.
14-'Panchsheel' was signed between Jawaharlal Nehru and Chou-En-Lai.
15-'Panchsheel' highlights Mutual Non-interference in each other's internal matters, Mutual Non-aggression, Mutual respect for each others territorial integrity and sovereignty
16-Krishna Menon coined the term 'Non-Alignment'.
17-The Agreement between India and China, by which both accepted 'Panchsheel' as the basis of their relations, was signed in 1954.
18-Sir Cyril Redcliffe was assigned the task of partitioning India in 1947.
19-Lord Ripon repealed the Vernacular Press Act.
20-Subhash Chandra Bose renamed The Andaman and Nicobar Islands as 'Shaheed and Swaraj'.
(Visited 78 times, 1 visits today)