History
 Medieval India
1- Medieval India refers to the Post classical Era, i.e. 8th to 18th century CE in the Indian subcontinent.
2-Krishnadeo Ray is designated as the Andhra Pitamah.
3- The Jhajhanri mosque at Jaunpur was built by Ibrahim Sharqi in about 1430.
4-The mosque of Lal Darwaza at Jaunpur, was built in the middle of the 15th century.
5-In the Vijay Nagar empire Brahmans were the most respected. The criminal Brahman was exempled from capital punishment.
6-The Vijay Nagar kingdom was divided into 6 provinces. The chief of the province was known as Prantpati or Nayak.
7-The most important mosque at Jaunpur known as Jami mosque was built by Hussain Shah Sharqi.
8-Kabir who adopted the Gyanashrayi branch of the Nirgun sect, was the disciple of Ramanand.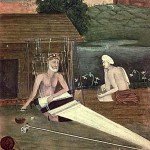 9-Sabad refer to the composition related to Yog Sadhana.
10-Guru Nanak was born in a small village Talwandi near Lahore.
11- Namdeo was born in a small village of Satara district in 1220.
12-The fifth Sikh Guru Arjundeo systematized the composition of Guru Nanak in 'Guru Granth Sahib
13-The mosque of Attala is one of the best buildings of Sharqi style.
14-Rashtrakuta was a royal dynasty ruling large parts of the Indian Subcontinent between the sixth and 10th centuries.
15-The earliest known Rashtrakuta inscription is a 7th-century copper plate grant detailing their rule from Manapura, a city in Central or West India.
16-The Pala Empire was founded with the election of Gopala as the emperor of Gauda in 750.
The Pala stronghold was located in Bengal and Bihar, which included the major cities of Pataliputra, Ramvati (Varendra), Munger, Vikrampura, Tamralipta and Jaggadala.
17-The Palas were important promoters of classical Indian philosophy, literature, painting and sculpture.
18-The Pala empire reached its peak under Emperors Dharmapala and Devapala.The Pala period is considered one of the golden eras of Bengali history.
19-Emperor Ramapala was the last strong Pala ruler, who gained control of Kamarupa and Kalinga.
20-The resurgent Hindu Sena dynasty dethroned the Pala Empire in the 12th century, ending the reign of the last major Buddhist imperial power in the subcontinent.
(Visited 156 times, 1 visits today)