General Awareness for various competitive examinations
Welcome to GK Section.
We know the importance of general awareness, GK (General Knowledge) in various competitive exams for aspirants.
We are publishing general awareness notes and study material daily.
We publish articles on this page from general studies and general knowledge point of view.
These notes are extremely useful for all exams including Bank Exams.
More General Awareness Study Material & notes will be updated
General Awareness bits help in the last minute preparation for various exams.
Watch One-Liners
---
1-Antonio Guterres is Secretary-General of United Nations (UN).
---
2-Barasingha or Swamp Deer is the State animal of Madhya Pradesh.
---
3- Judiciary capital of Madhya Pradesh is Jabalpur.
---
4-NASA astronaut Peggy Whitson has broken Sunita Williams' spacewalking record.
---
5-The biggest river festival in India, Namami Brahmaputra was held in 21 districts of Assam.
---
6-Indian Army has Released Book on Rashtriya Rifles 'Home of the Brave' authored by Mr. Nitin A Gokhale.
---
7-R Ashwin has received Sir Garfield Sobers trophy recently.
8-FIFA U-17 World Cup: Kolkata is hosting final.
---
9-World's largest capstone has been discovered by archaeologists in Telangana.
---
10-The longest road tunnel Chennai-Nashri Tunnel in South Asia is the country's first and the world's sixth road tunnel with a Transverse Ventilation System.It is also known as Patnitop Tunnel.
---
11- Andhra Pradesh became the first state to join UDAY(Ujjwal Discom Assurance Yojna) scheme.
---
12-El Salvador has become the first country in the world to ban metals mining. It is Central America's smallest nation.
---
13-BRICS-These are the countries, which are members of New Development Bank (NDB) headquartered in Shanghai, China.
---
14-Government has launched these two mobile apps- e-challan and mParivahan.
---
15- App eChallan' is an integrated enforcement solution to manage traffic violations.
---
16- App eParivahan is an app for the citizen which provides access to various services, information, and utilities related to the transport sector.
---
17-Kanha tiger reserve in Madhya Pradesh is the first tiger reserve in India.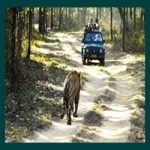 ---
18-Sir Osborne Smith was the first Governor of the Reserve Bank of India. It was established on 01st April 1935.
---
19-SBI- It will be written in a new font called Effra.
---
20-Roger Federer won Miami Open 2017.
---
21-India and Nepal have signed an agreement between Indian Oil Corporation Ltd (IOCL) and Nepal Oil Corporation (NOC) for another five years.
---
22-Medha, the made-in-India rake was flagged off at Lokmanya Tilak Terminus for the maiden run of the 12-coach train from Dadar to Borivali.
---
Also, watch General Awareness other bits here 
Also watch Current Affairs here
(Visited 30 times, 1 visits today)