General Awareness- One-Liners
1-The Government has granted in-principle approval for a greenfield airport at Jewar in Uttar Pradesh
2-The annual plenary meeting of the Nuclear Suppliers Group 2017 was held in Berne.
3- The Space Agency National Aeronautics and Space Administration is launching a new Colorado High-resolution Echelle Stellar Spectrograph (Chess) sounding 
rocket. It will study the vast interstellar clouds to understand more about the earliest stages of star formation
4-

Parbinderkaur Shergill

became the first turbaned Sikh woman Supreme Court judge of Canada in June 2017
5-The minister Narottam Mishra in the Madhya Pradesh was disqualified by the Election Commission from membership of any State legislature and contesting 
polls for the next three years for filing wrong accounts of election expenditure.
6-New Incredible India 2.0 campaign will be launched by Ministry of Tourism
7- ISRO's Polar Satellite Launch Vehicle

PSLVC38

has successfully launched the 712 kg Cartosat-2 Series Satellite along with 30 co-passenger satellites. It was launched from Satish Dhawan Space Centre SHAR, Sriharikota.
8-India is likely to have a bigger population than China by 2024, according to a U.N. 'The World Population Prospects: The 2017 Revision' report.
9- Four Arab States or Countries have been boycotting Qatar over alleged support for terrorism.
10-

Smart City Mission

was launched on June 25, 2015. The Central government has announced another list of 30 cities for development as smart cities taking the total cities picked up so far is 90.
11- Ministry of Urban Development has launched City Liveability Index for measuring the quality of life in 116 major cities.
12-The Reserve Bank of India (RBI) has expanded its Oversight Committee. It has been formed to advise banks on Stressed asset resolution issue.
13-Meira Kumar has been selected unanimously as the Opposition candidate for the presidential election to be held in July 2017
14-Pune Municipal Corporation has become the first local body in the country to issue municipal bonds.
15-

Kenneth Juster

is appointed as the U.S. Ambassador to India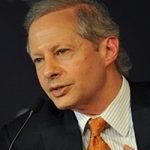 16- International Yoga Day is celebrated every year on June 21
17- The 5th International Forum for Technological Development TECHNOPROM- 2017 was held in Russia
18-

David Richardson

is the current CEO of International Cricket Council's (ICC)
19-The BIO International Convention 2017 was held in San Diego
20-According to Fitch Ratings, India's GDP growth will steadily rise from 7.4% to 7.5% in 2018-19.
(Visited 47 times, 1 visits today)