Polity
Rabindranath Tagore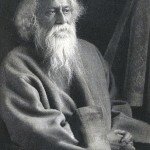 1-Rabindranath Tagore was born in the year 1861, May 7th.
He was born in the Jorasanko mansion in Calcutta to Debendranath Tagore (1817–1905) and Sarada Devi (1830–1875).
2- He was a Writer and Painter
3-Gitanjali, Gora, Ghare-Baire, Jana Gana Mana, Rabindra Sangeet, Amar Shonar Bangla (other works) are his notable works.
4-He founded, Visva-Bharati University.
5-Gitanjali (Song Offerings), Gora (Fair-Faced) and Ghare-Baire (The Home and the World) are his best-known works.
6-His compositions were chosen by two nations as national anthems: India's Jana Gana Mana and Bangladesh's Amar Shonar Bangla.
7-The Sri Lanka's National Anthem was inspired by his work.
8- Tagore (nicknamed Rabi)
9- Tagore's oldest brother Dwijendranath was a philosopher and poet.
10- Satyendranath, another brother was the first Indian appointed to the elite and formerly all-European Indian Civil Service.
11-Another brother, Jyotirindranath, was a musician, composer, and playwright.
12-His sister Swarnakumari became a novelist.
13-The period 1891–1895, Tagore's Sadhana period, named after one of his magazines, was his most productive
14-In 1901 Tagore moved to Santiniketan to found an ashram with a marble-floored prayer halL, The Mandir, an experimental school, groves of trees, gardens, a library.
15- His father died in 1905.
16-He was awarded a knighthood by King George V in the 1915 Birthday Honours, but renounced it after the 1919 Jallianwala Bagh massacre
17-Tagore was a prolific composer, with 2,230 songs to his credit. His songs are known as rabindrasangit
18-At sixty, Tagore took up drawing and painting; successful exhibitions of his many works
19-He Nobel Prize in Literature in 1913
20- He died on 7 August 1941, Kolkata
(Visited 96 times, 1 visits today)