General Awareness for various competitive examinations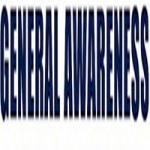 Welcome to GK Section.
We know the importance of Current Affairs mainly general awareness, GK (General Knowledge) in various competitive exams for aspirants.
We are publishing general awareness notes, bits and study material daily.
We publish articles on this page from general studies and general knowledge point of view.
These notes are extremely useful for all types of exams including Bank Exams.
More General Awareness Study Material & notes will be updated
General Awareness bits help in the last minute preparation for various exams.
Watch One-Liners
---
1-

Currency Chest

is the property of Reserve Bank of India.
---
2-

Hedging

denotes protecting against fluctuations/ uncertainty risk in forex markets.
---
3-

Claused Bill of Lading

is one which indicates a defective condition of package and goods.
---
4-Concept of

Service Area Approach

was recommended by

R.V. Gupta

.
---
5-Mutual Funds are required to be registered with

SEBI

.
---
6-Usually, the validity period of an

Income Tax Refund

Order is 3 months.
---
7-

ICICI Bank

is the first bank in India to launch its interactive banking service through Dish TV.
---
8- A

Usance Bill

, when presented for acceptance, has to be accepted/ dishonored within 48 hours.
---
9-For violation of

FEMA

, the prosecution is done by Enforcement Directorate.
---
10-Electronic Fund Transfer scheme of RBI has been renamed as

National Electronic Fund Transfer

.
---
11-The largest financial conglomerate in India is

SBI

.
---
12-

C.D. Deshmukh

was the first Indian Governor of the Reserve Bank of India.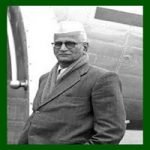 ---
13-The single largest component of external debt is

Commercial Borrowings

.
---
14-'NABARD' came into existence on 12th July 1982.
---
15-NABARD stands for

National Bank for Agriculture and Rural Development

.
---
16-'NABARD' was dedicated to

Indira Gandhi

.
---
17-NABARD was set up with an initial capital of Rs. 100 Crore.
---
18-Headquarter of 'NABARD' is located in Mumbai, Maharashtra.
---
19- NABARD is the apex institution in the country which looks after the development of the cottage industry, small industries, village industries and other rural industries.
---
20- NABARD was established on the recommendations of

Shivaraman Committee

.
---
Also, watch General Awareness other bits here 
Also watch Current Affairs here
(Visited 30 times, 1 visits today)